Below is a list of the ten happiest jobs as well as the ten most hated jobs.

Ten Happiest Jobs (as reported in a General Social Survey by the National Organization for Research at the University of Chicago)

1. Clergy

2. Firefighters

3. Physical therapists

4. Authors

5. Special education teachers

6. Teachers

7. Artists

8. Psychologists

9. Financial services sales agents

10. Operating engineers

Ten Most Hated Jobs (as reported in a CNBC article where Daniel Bukszpan draws on a survey of hundreds of thousands of employees conducted in 2011 by CareerBliss)

1. Director of Information Technology

2. Director of Sales and Marketing

3. Product Manager

4. Senior Web Developer

5. Technical Specialist

6. Electronics Technician

7. Law Clerk

8. Technical Support Analyst

9. CNC Machinist

10. Marketing Manager

It's notable that money doesn't equate to happiness, according to these lists. Studies have found that money is only important to the point that you can meet all your basic needs. Therefore, money can buy security but not much more. In fact, extra money does not make you happier. To be happy at work, you should actually look for a job that will make you feel that you are making a difference and is a 'flow activity.' This means that you become so absorbed in what you are doing at work that time seems to pass more quickly. The below graphic describes the two categories and shows that they matter because they're connected to your long-term satisfaction, rather than short-term fulfillment.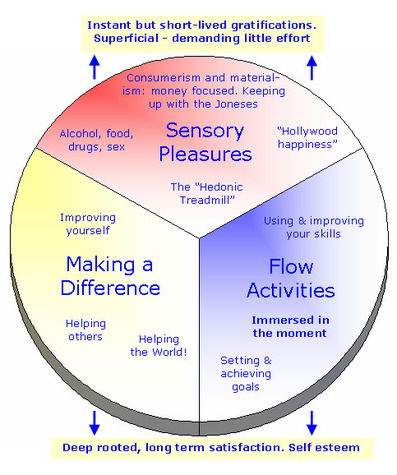 As for which countries are happiest, the Happy Planet Index explores several categories, including 'experienced well-being.' This attempts to measure the number of happy lives per unit of environmental output in 151 countries around the world. The top three countries are Denmark, Canada, and Norway. America ranks 16th on the list. It seems that the opportunity for finding happiness at work exists, and is relatively common in our country. Just remember to pursue your passions once you've covered the basics.
-
Samantha Phillips
What do you think about the presented research? Do you agree or disagree?