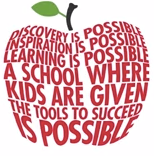 There is currently a campaign called Don't Steal Possible occurring in New York which is calling for change in the NY public education system. It has the support of parents, students, teachers, and celebrities as well as some fairly staggering statistics on its side.

800,000 kids can't read or do math at grade level. In a kindergarten class of 30 black and Hispanic kids, only 2 will graduate ready for college. In New York City, 143,000 kids are trapped in persistently failing schools. As Families for Excellent Schools documented this summer, a full quarter—a Forgotten Fourth—of all New York City's public schools have been persistently failing over decades to achieve grade-level standards for their students.


Don't Steal Possible is demanding radical change because they can't make their kids wait any longer. The supporters are holding up an example of certain schools, district and charter schools specifically, that are currently succeeding and are asking other institutions to replicate this model.
They're pointing out that the issue is worse in certain communities: "It is clear that our crisis of failing schools predominantly affects children of color from under-served communities… At schools where the majority of students are living at or below the poverty level, achievement rates plummet." And they're highlighting the consequences of ignoring the problem as well. They make the fair point that educating and empowering students to succeed is the "linchpin of any meaningful attempt to restore opportunity to every New Yorker."
Recently, Team Possible made a big move. On March 4th, 13,000 New Yorkers rallied in Albany to demand great schools for all kids. Janelle Monae performed a free public concert at the event. "It's heartbreaking to know that there are 800,000 New York kids falling through the cracks every year," Monae said in a statement. "I am honored to stand with families demanding an end to this crisis." Monae isn't alone; other supporters of the campaign include Questlove and members of the Roots, the Beastie Boys' Mike D, and Estelle.
Even if you don't agree with the proposed solution of the Don't Steal Possible campaign, it's hard to disagree with their facts: the NY public education has its faults and needs to be fixed.
-
Samantha Phillips
What would you suggest as a solution? Check out more about the Don't Steal Possible campaign here and see what 4T's Productions is doing to make a difference!
Sources:
Rolling Stone:
Janelle Monae Playing Education Rally to Support New York Children
Families for Excellent Schools:
Don't Steal Possible